ICEMT 2021 Virtual Conference|ACM Digital Library|Ei Compendex| Scopus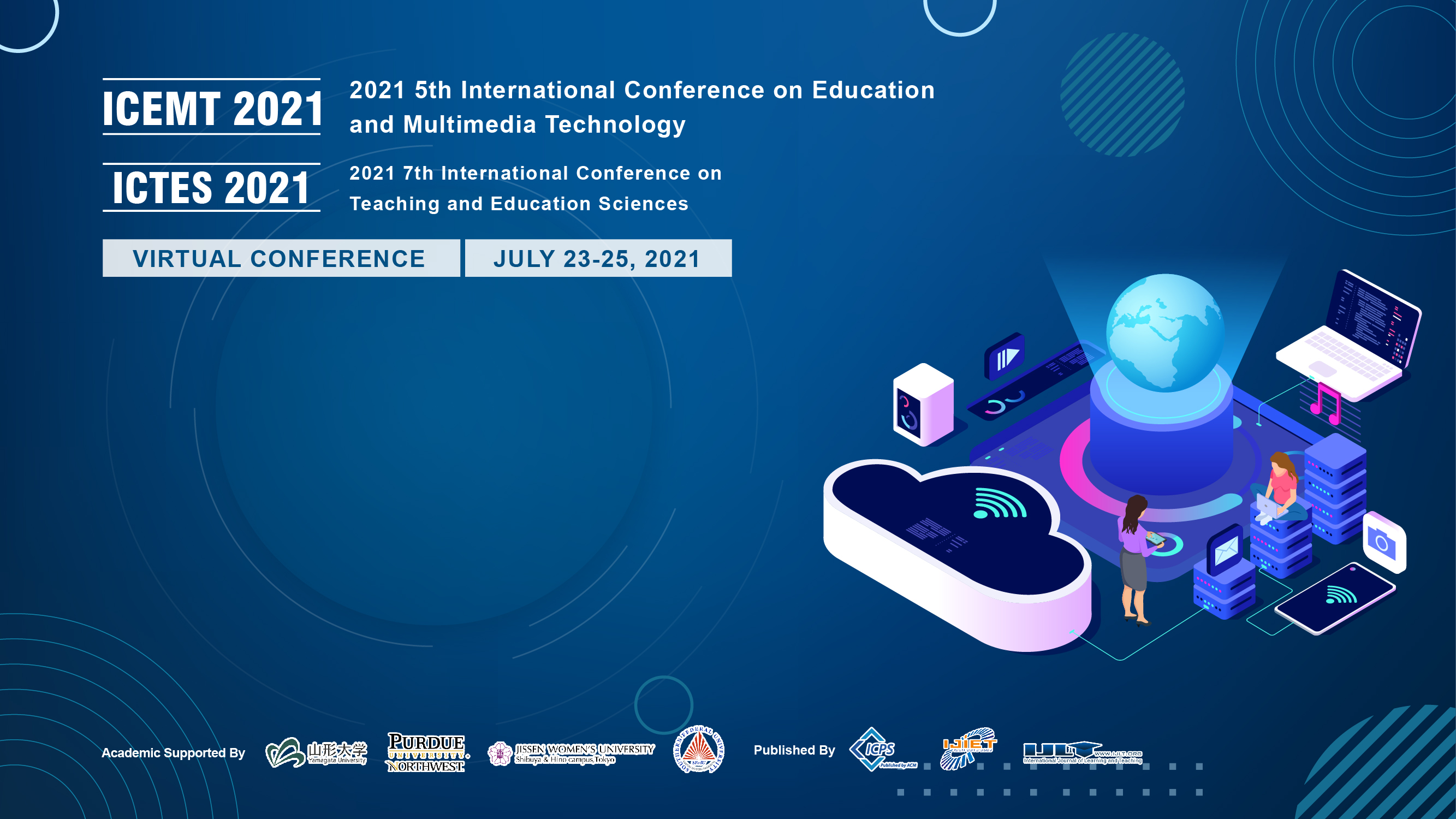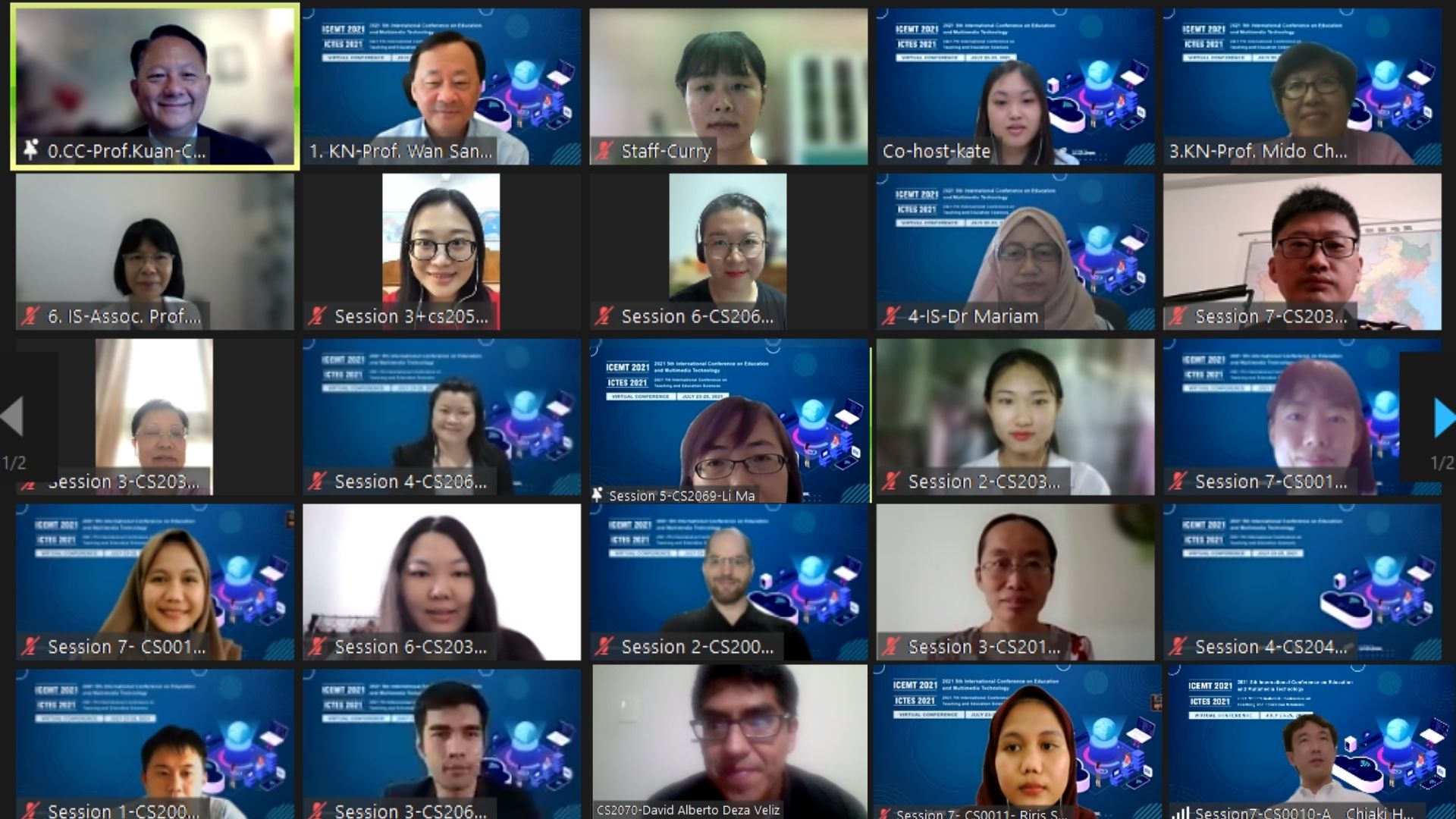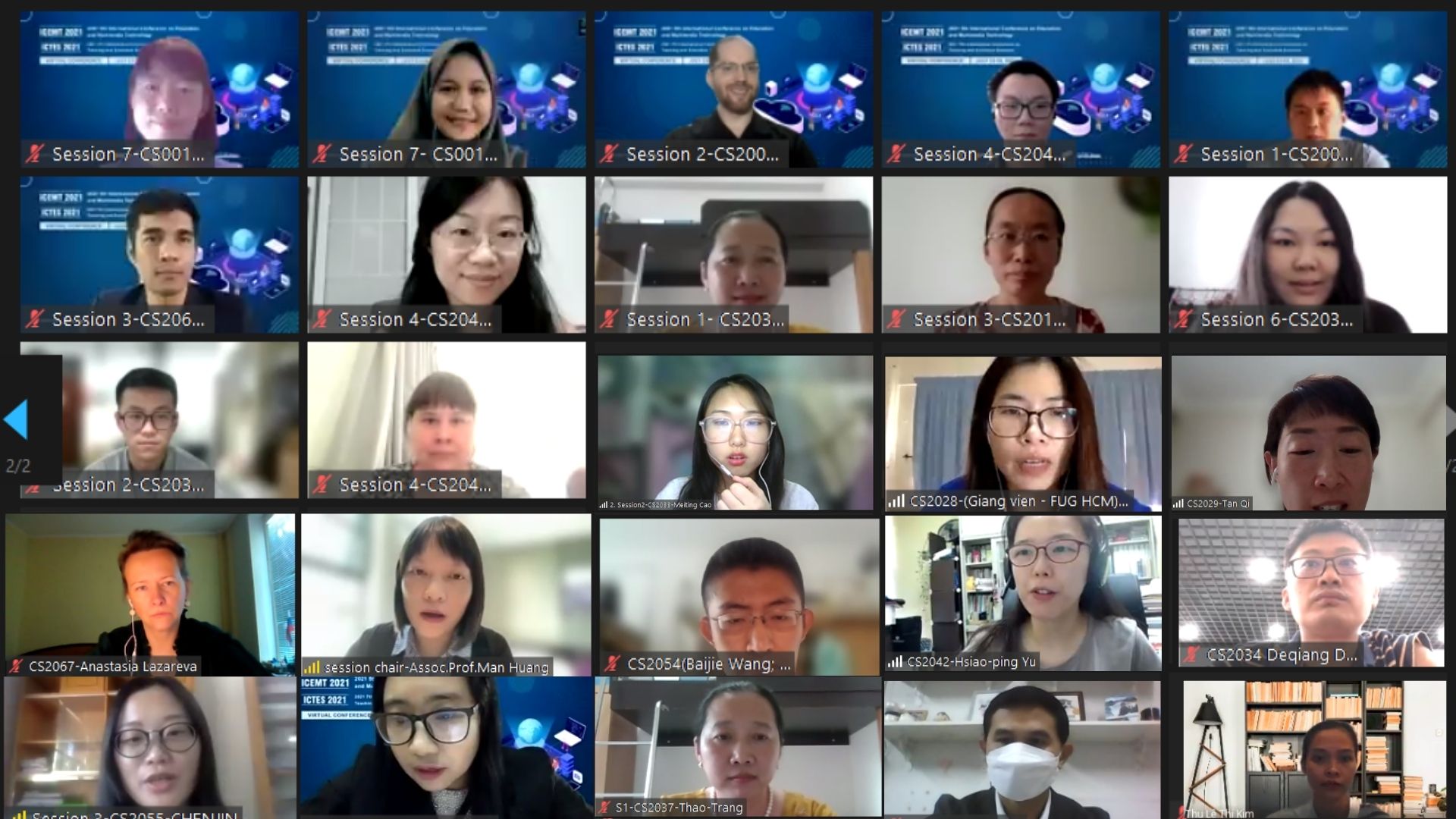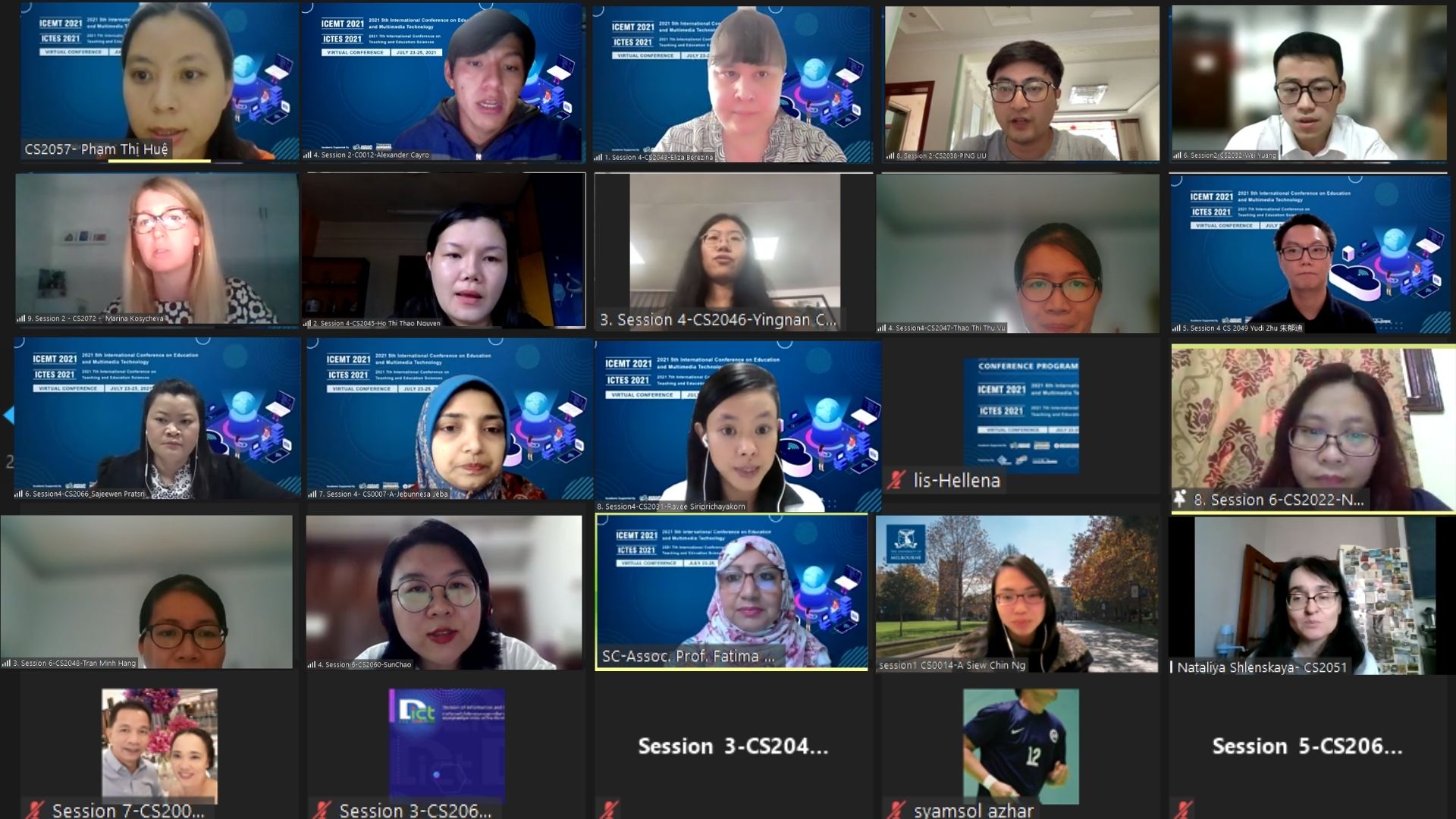 2021 5th International Conference on Education and Multimedia Technology (ICEMT 2021) has been held virtually on July 23-25, 2021 successfully. For COVID-19 spreading, considering the safety and health of all participants, the 3 days conference was finished online. More than 70 participants attended and shared their latest idea and researches. Although participants cannot attend the physical conference, we think that the virtual conference was also a rewarding experience for them.
The conference chair: Prof. Kuan-Chou Chen, Purdue University Northwest, USA delivered the opening remarks at the beginning of ICEMT 2021. Afterwards, Prof. Benjamin W. Wah, The Chinese University of Hong Kong, China, Prof. Mido Chang, Florida International University, USA, Prof. Kuan-Chou Chen, Purdue University Northwest, USA, and Prof. Anja Pfennig HTW Berlin - University Of Applied Sciences, Germany delivered the keynote and plenary speeches, respectively, to share the latest progress and researches on Multi-Player Online Games , COVID 19 Impact on Higher Education System, Peer-to-Peer Lecture Films, etc.
Keynote Speeches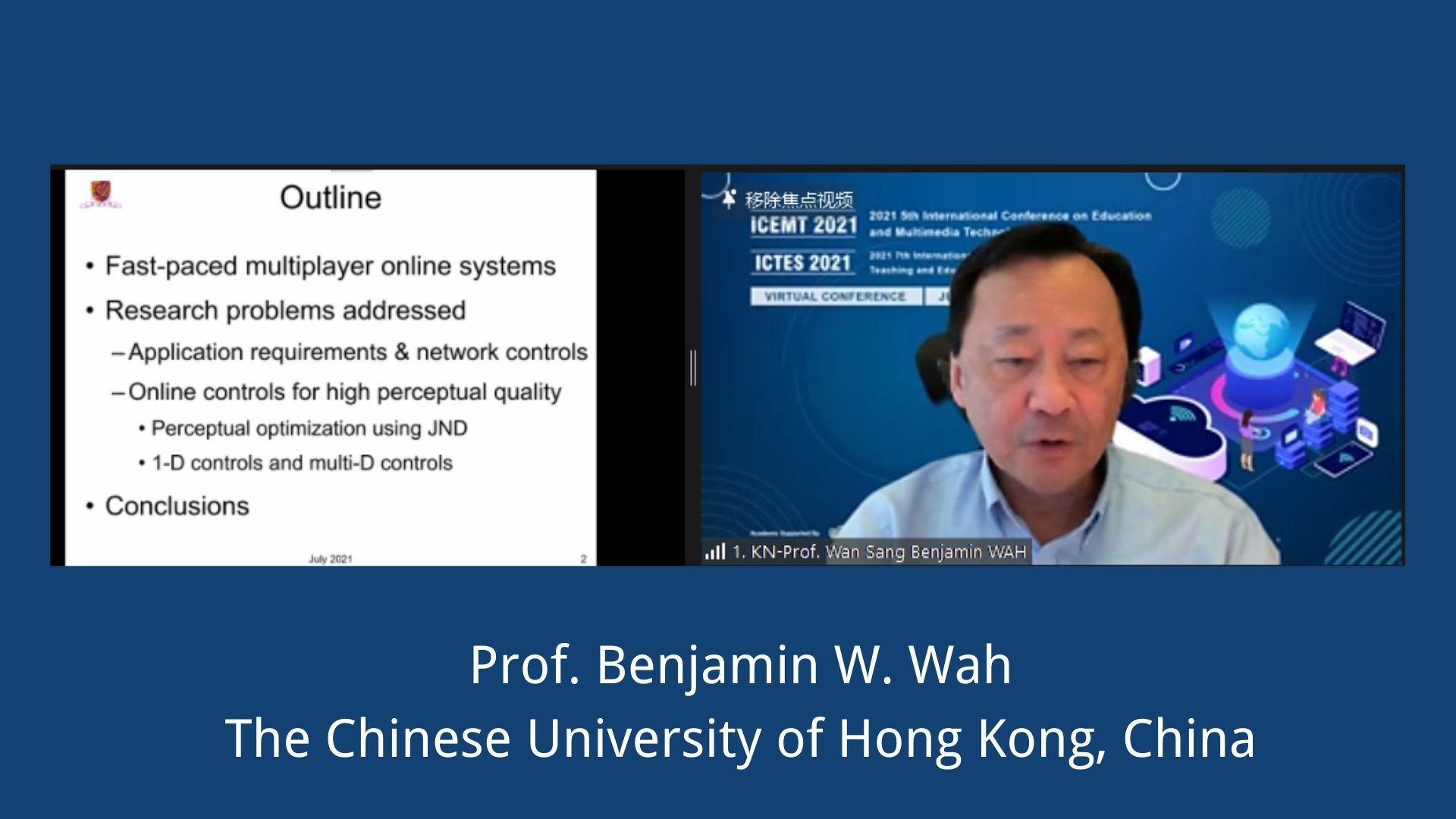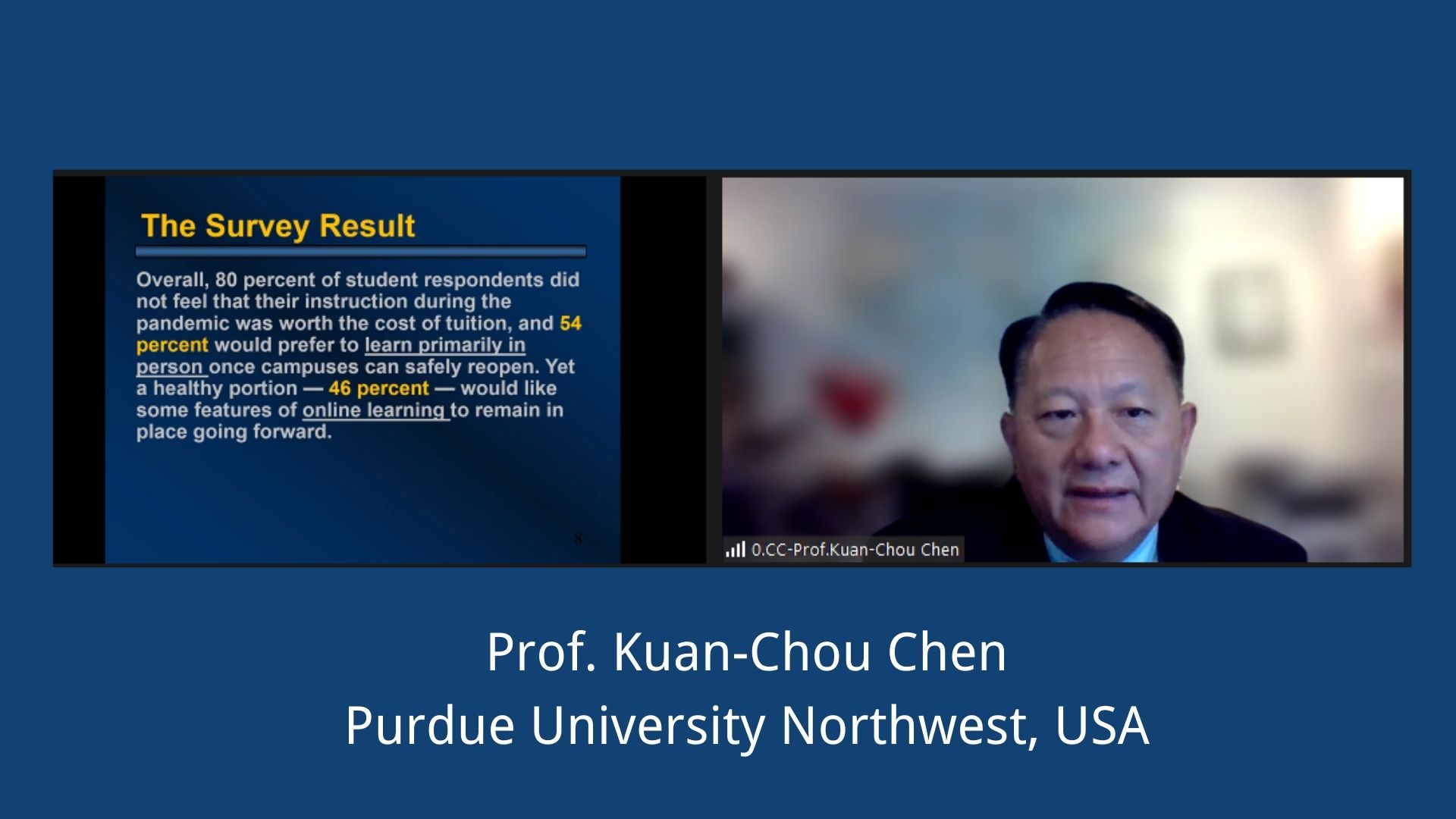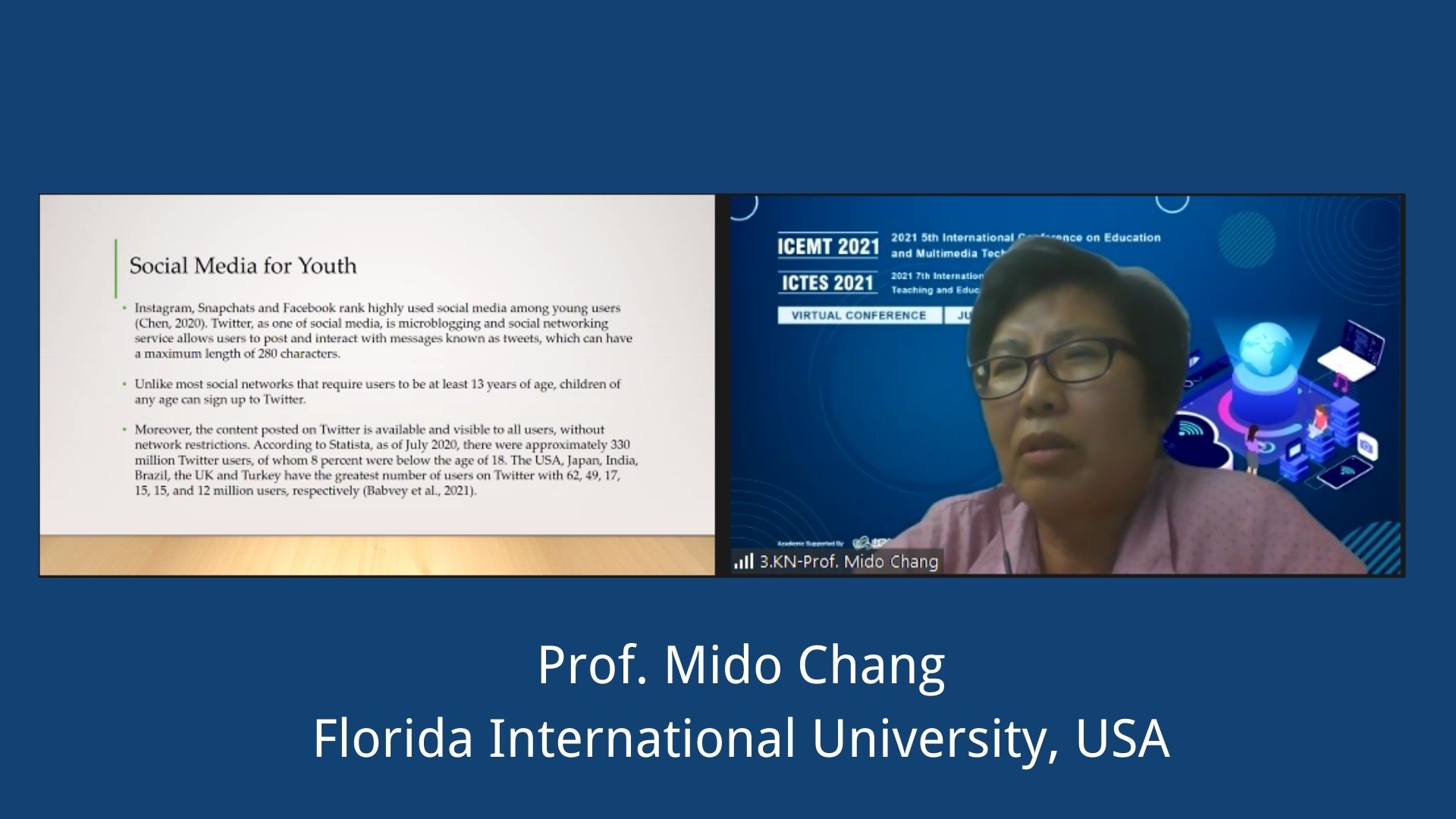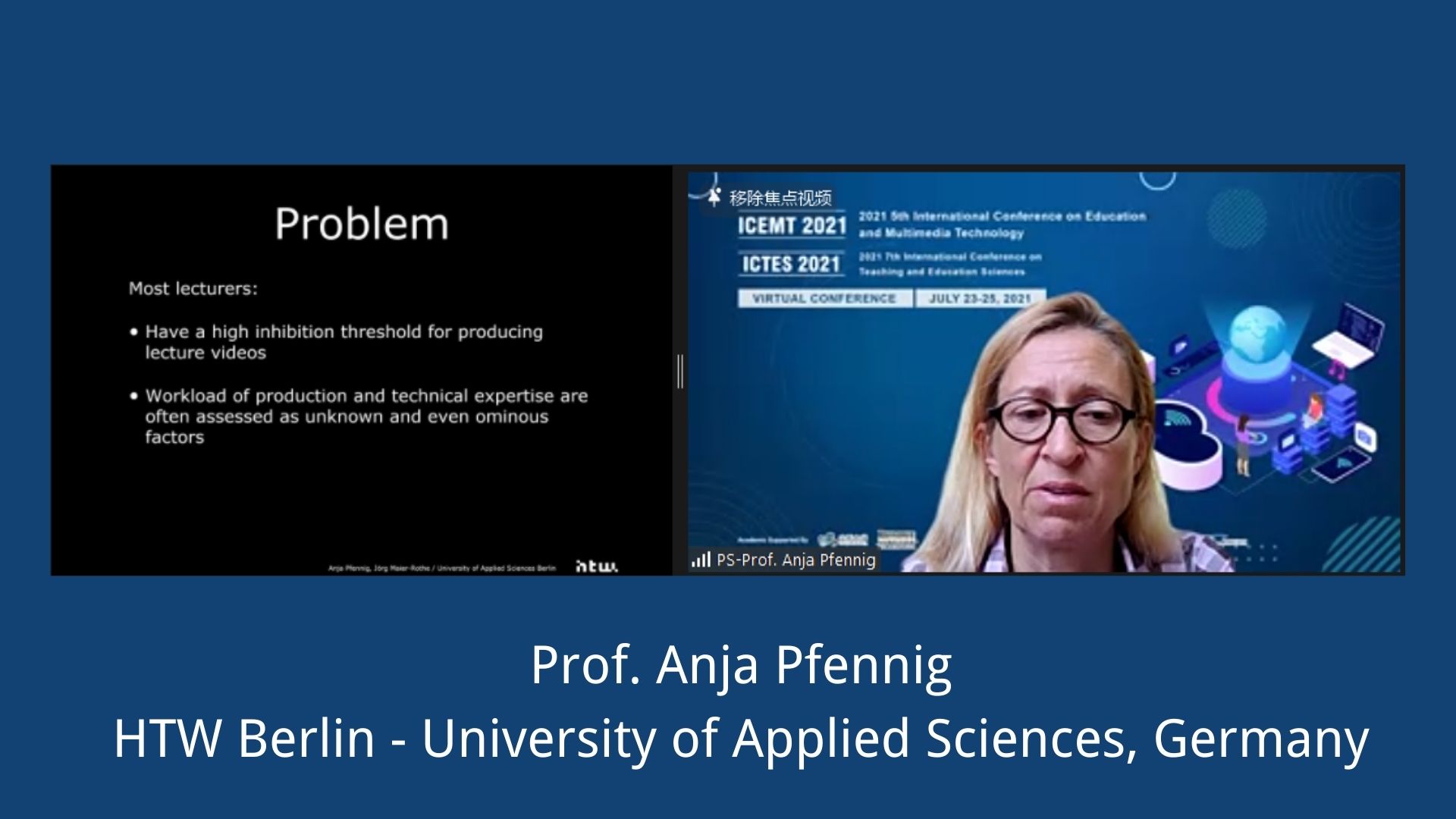 Moreover, there are 3 invited speakers shared their latest researches on the education and multimedia technologies.
Invited Speakers: Assoc. Prof. Hui-Wen Huang, Fujian University of Technology, China; Senior Lecturer Dr. Mariam Mohamad, Universiti Sains Malaysia, Malaysia and Assoc. Prof. Celeste Yuen, The Chinese University of Hong Kong, China
Invited Speeches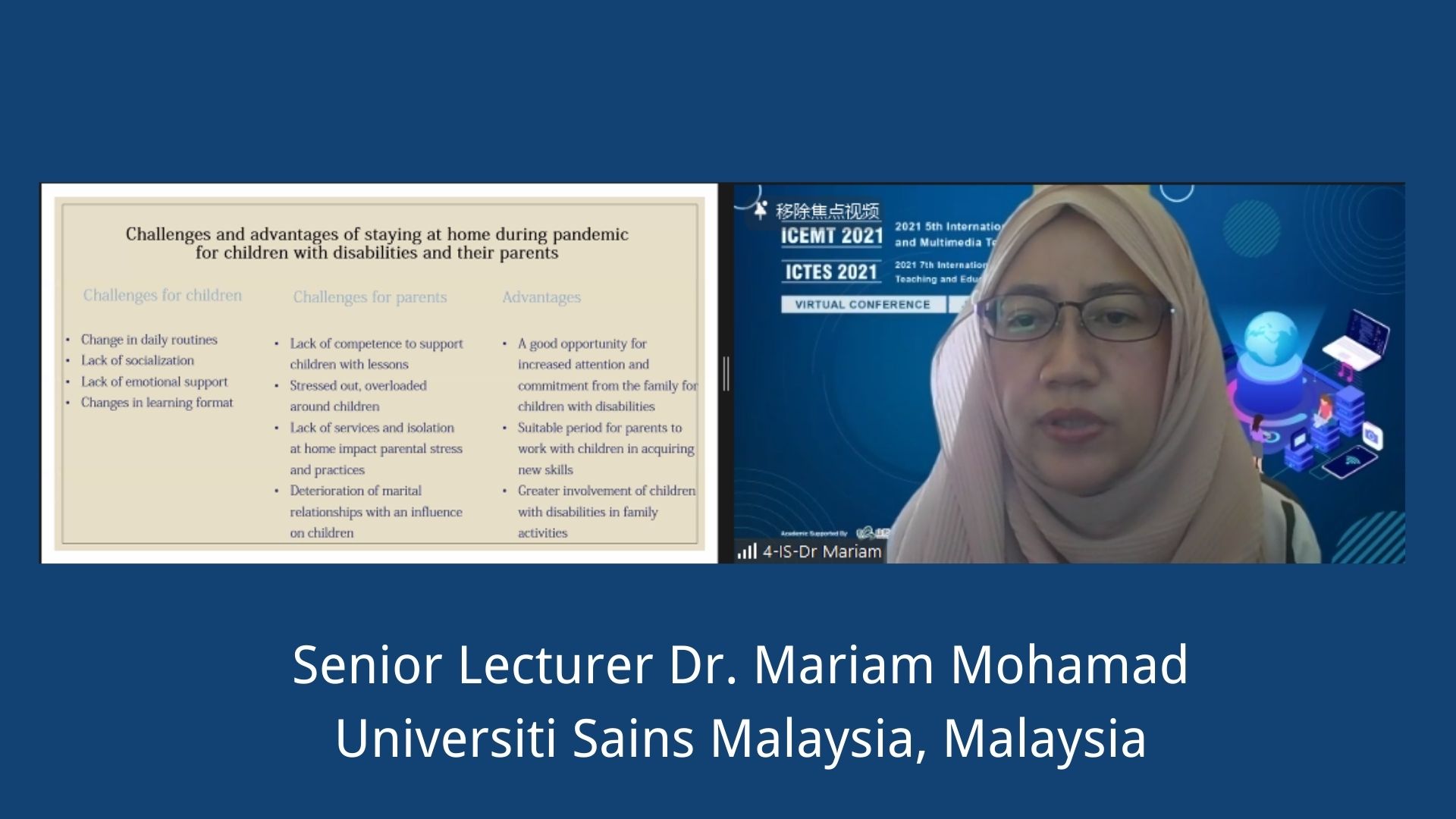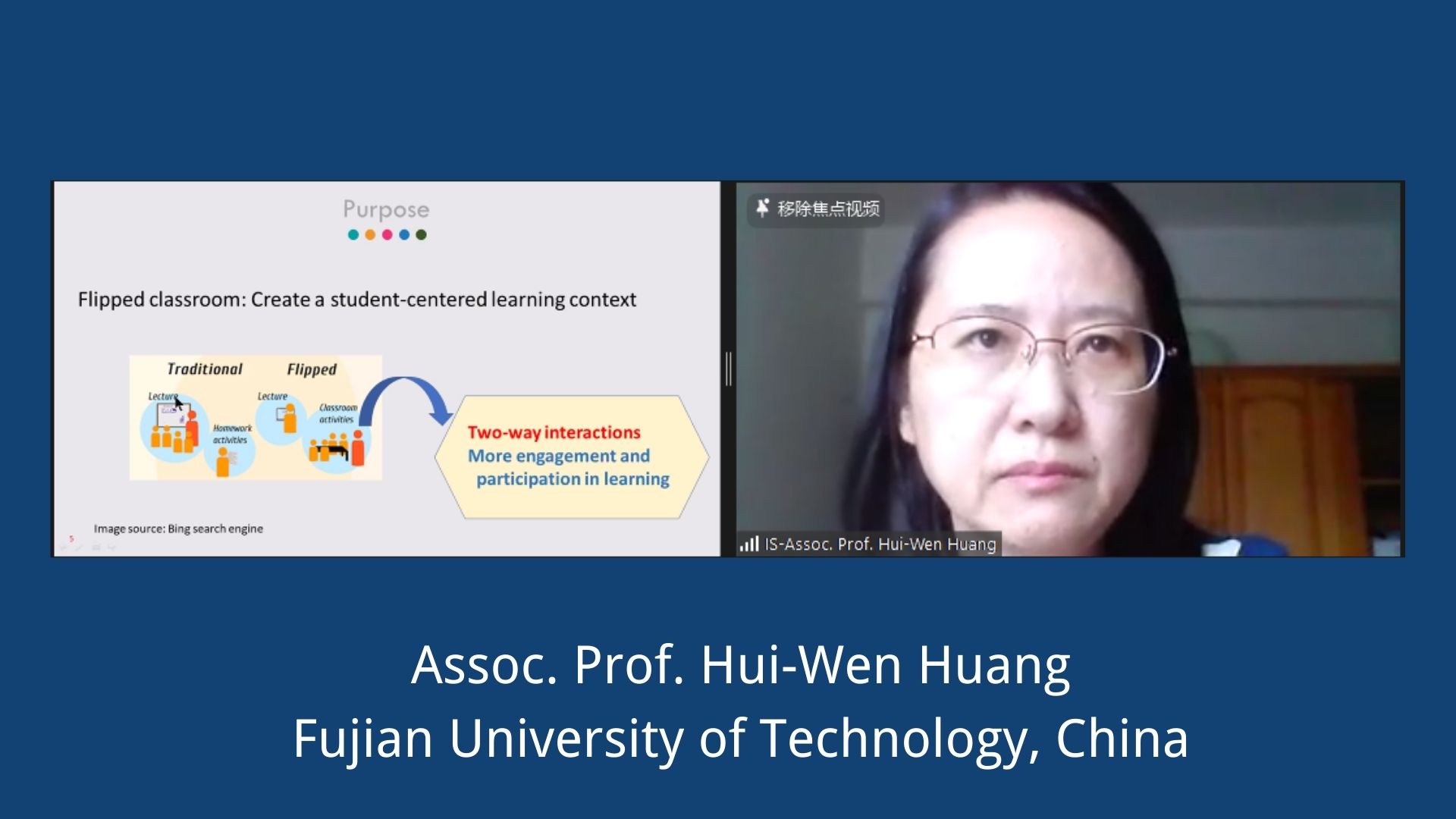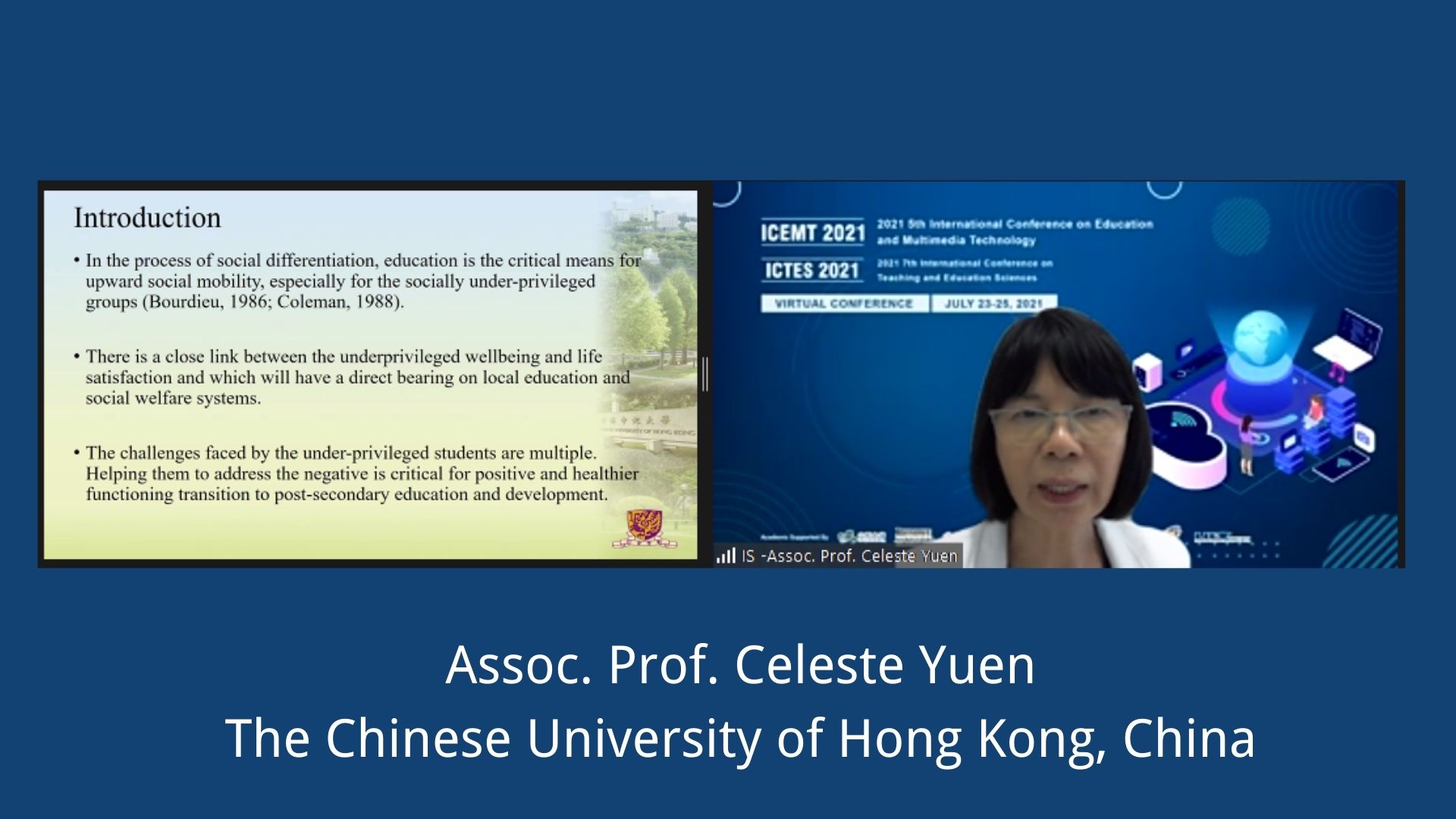 In addition, the conference was composed of 7 technical oral sessions and poster sessions. Each parallel session went through smoothly and a "Best Presentation" award was issued at the end of sub-conference, with the support of session chairs.
Session Group Photos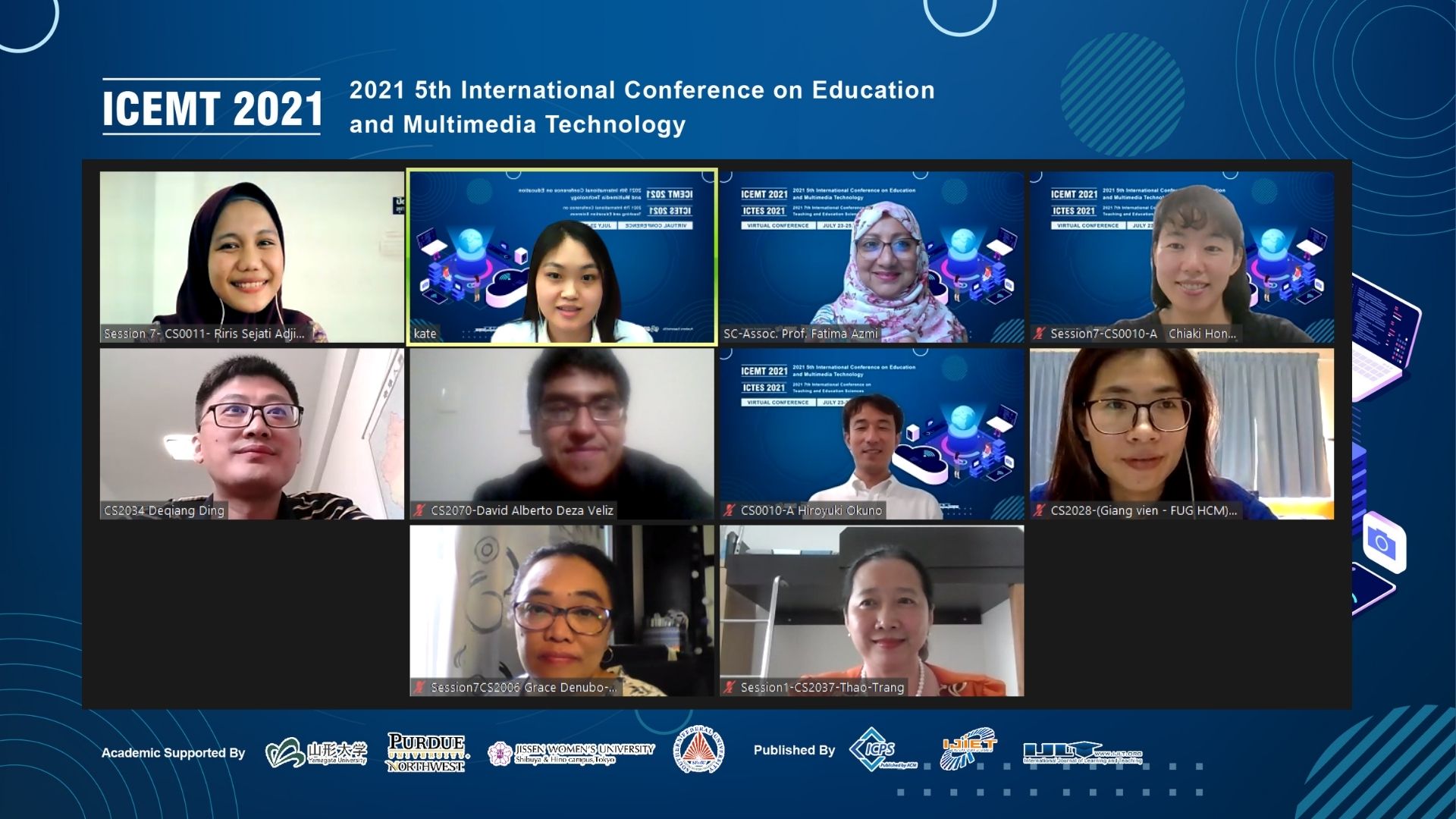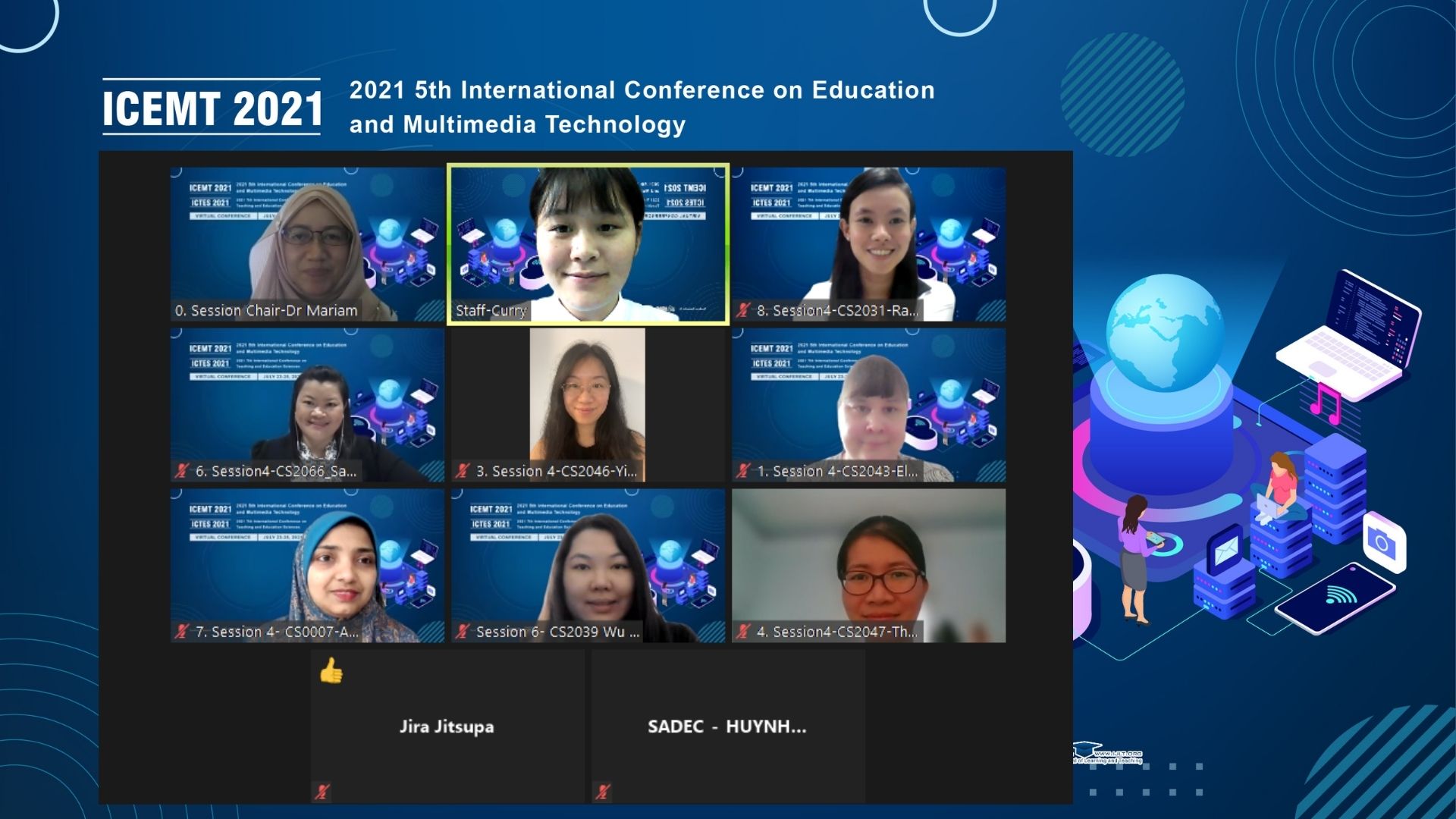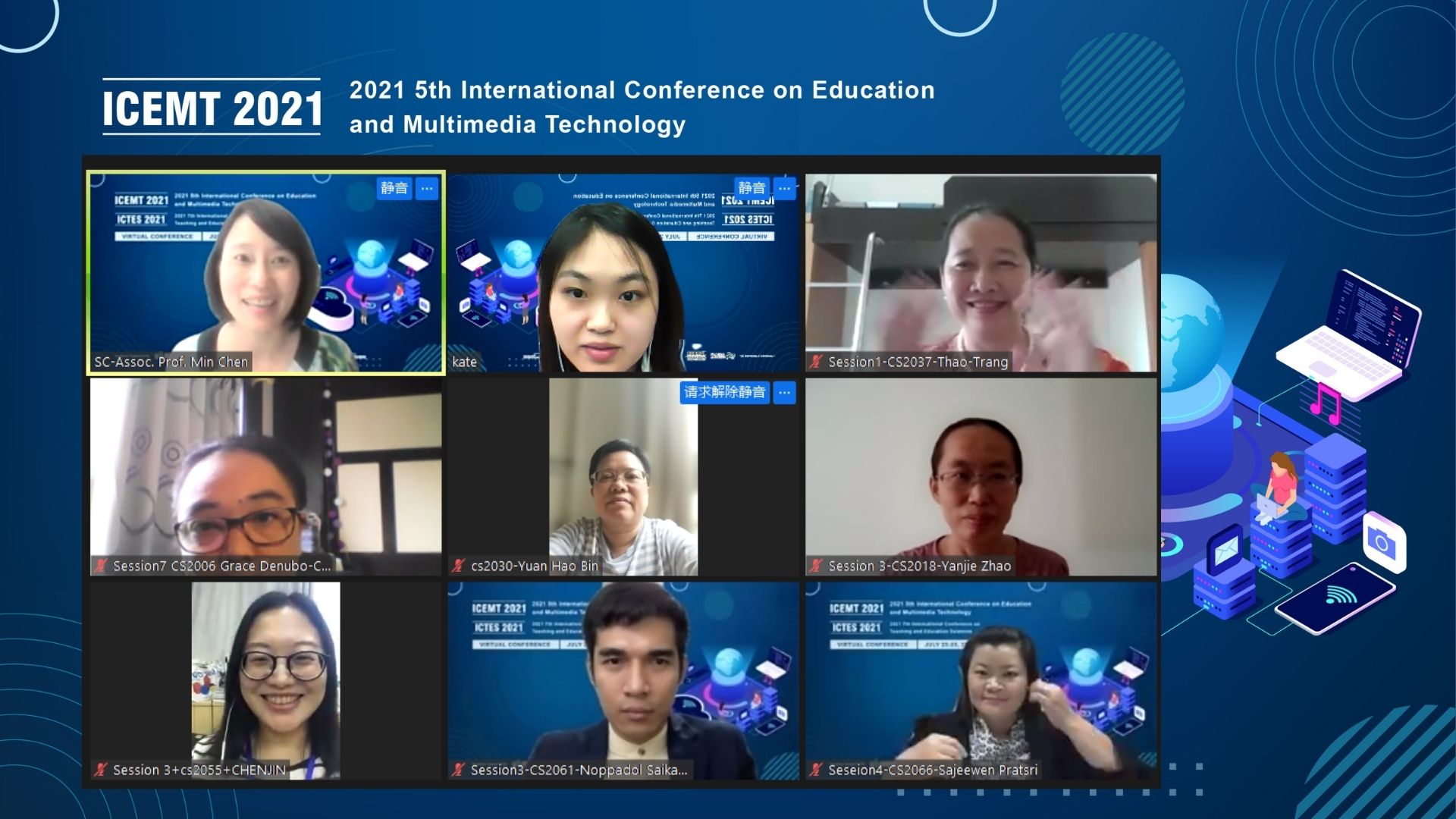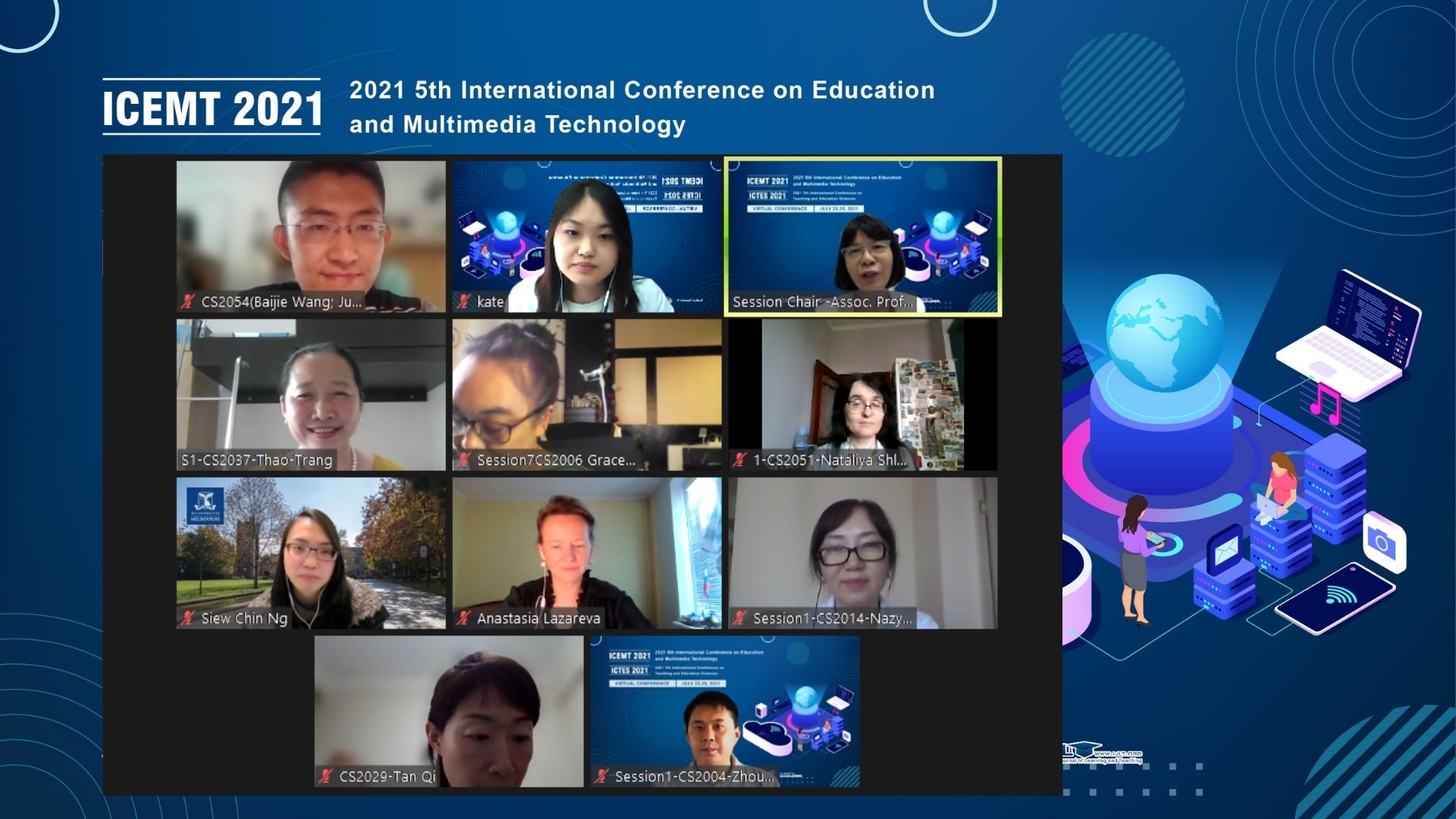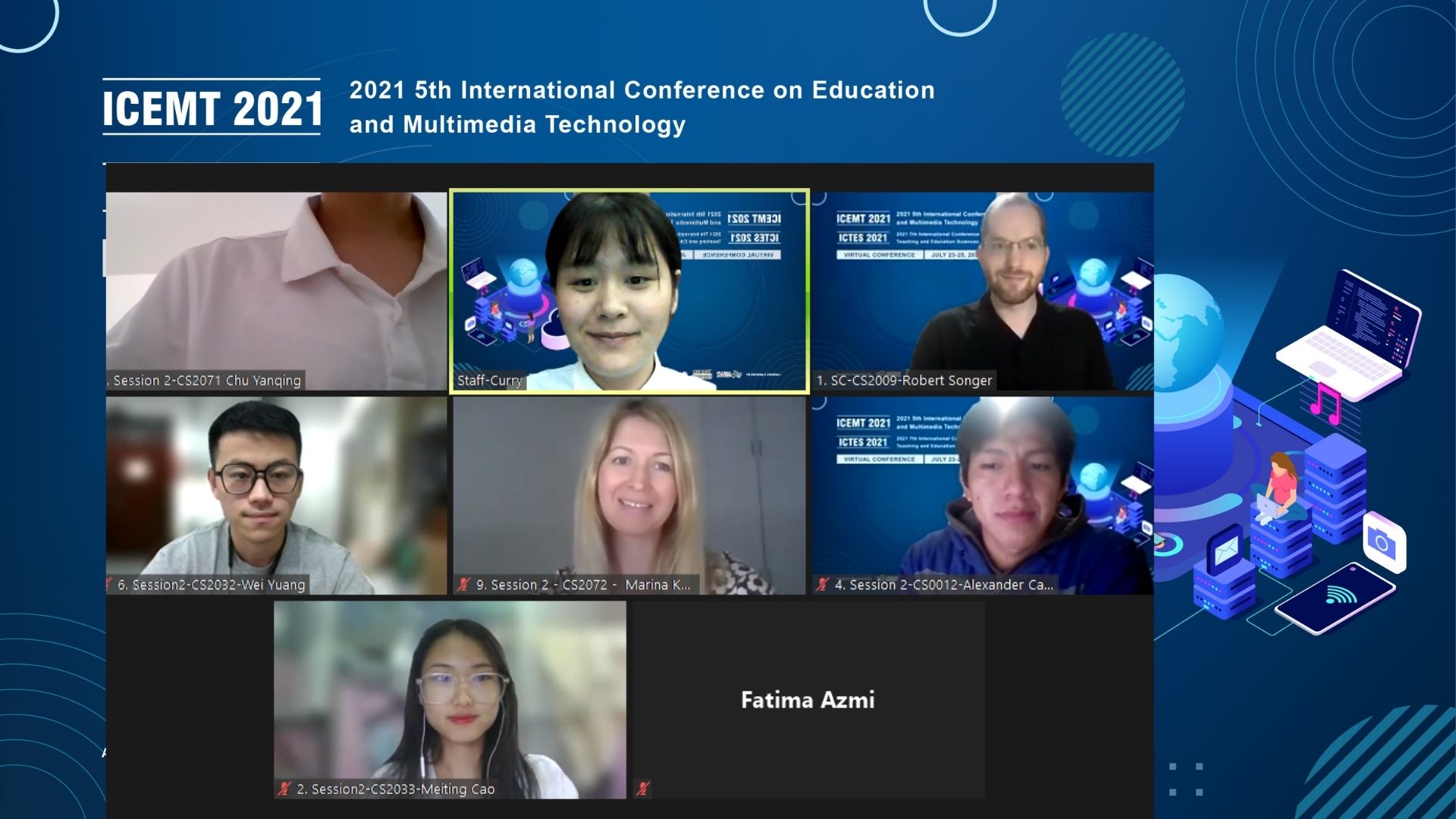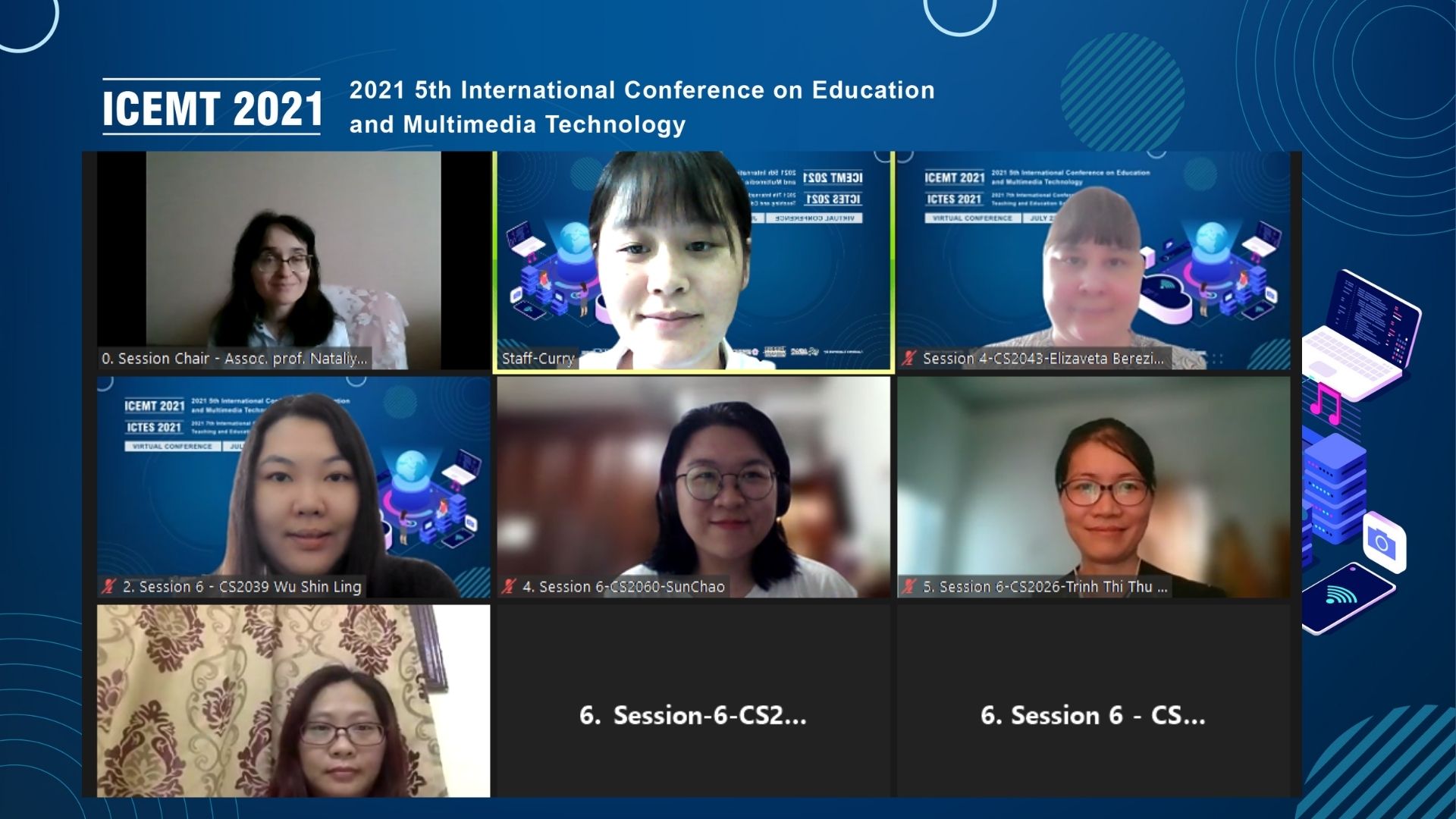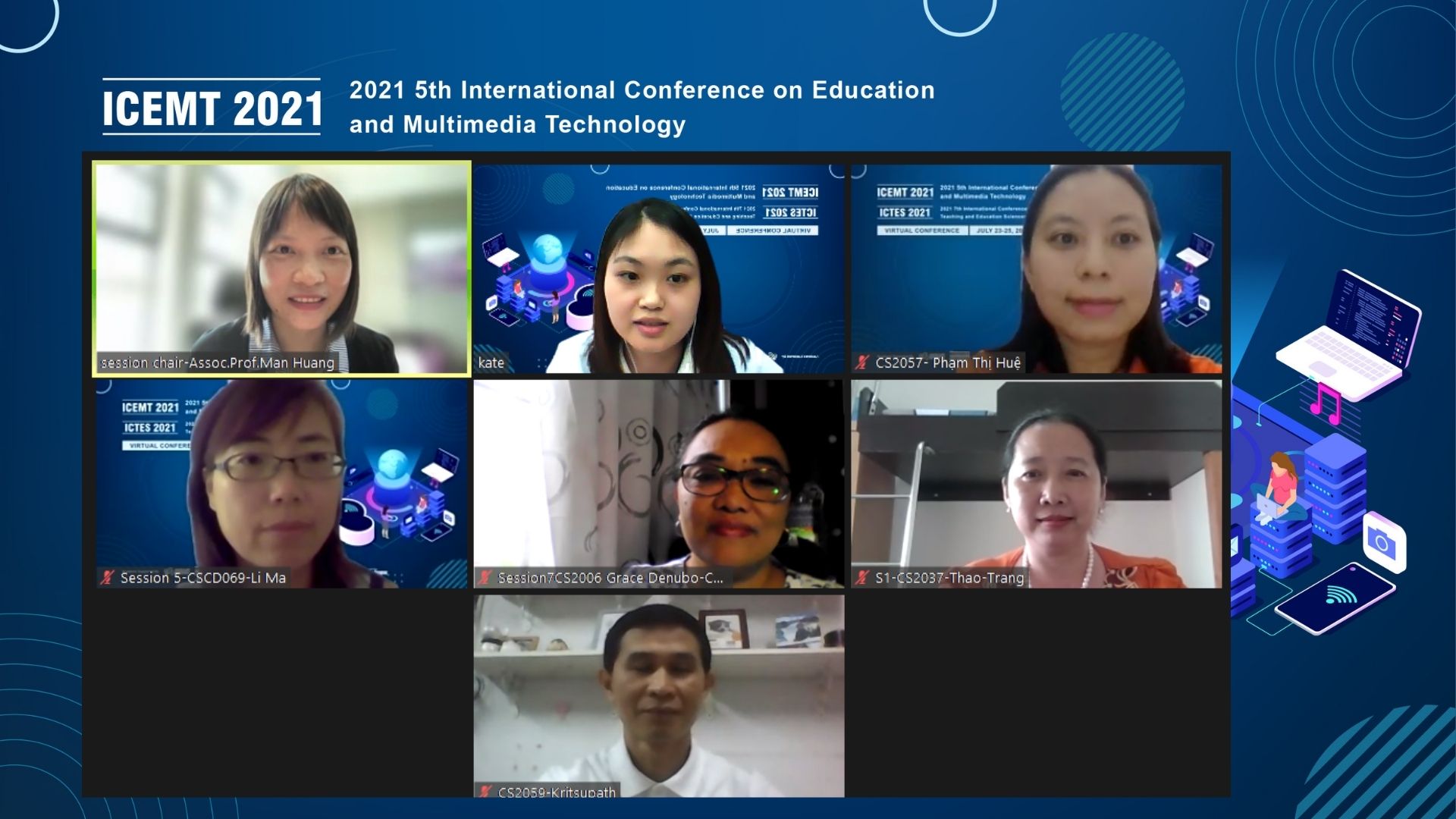 Congratulations! Excellent Paper Presentation Winners!
Session 1: Educational Management and Psychology ID:CS0014-A
Outdoor Community Learning: Early Childhood Educators? Perspectives on Relationship Building With No Barrier
Siew Chin Ng
The University of Melbourne, Australia
IDCS2067
Research on the Students? Perception and Evaluation of Task-Based Language Teaching Approach at the University English Classes
Anastasia V. Lazareva
MGIMO University (Moscow State Institute of International Relations), Russia

Session 2: Educational Informationization and Information Technology Application ID:CS2033
Research on the Design and Practice of STEAM Course Based on Intelligent Technology in Primary School
Meiting Cao
South China Normal University, China

Session 3: Computer Aided Education and Virtual Reality in Education ID:CS2055
Research on Adaptive Cognitive Diagnostic Test Model based on Multilayer Bi-GRUs
Jin Chen
Guangdong University of Foreign Studies, China

Session 4: Online Education and Distance Learning ID:CS2031
The Community-Based Learning Approach for Designing School Curriculums in Early Childhood Education with an Application to Promote a 21st Century Learning
Ravee Siriprichayakorn
Suan Dusit University, Thailand

Session 5: Blending Teaching and Video-based Learning ID: CS2036
Exploration in the Ways of Mental Health Education of College Students in the Context of Big Data
Yuxi Zhai
University of Electronic Science and Technology of China, China

Session 6: Educational Statistics and E-Learning Assessment ID:CS2048
Student Readiness for Transformative Learning: A Case Study in a Vocational College
Hang Minh Tran
FPT University, Vietnam

Session 7: Subjects Education and Analysis ID:CS0011
Creating an Interactive Environment for Learning Microplastics via a Board Game at the Museum
Riris Sejati Adjiningsih
Mahidol University, Thailand
ICEMT 2021 Conference proceedings published by ACM (ISBN: 978-1-4503-9022-4). It has been included in the ACM Digital Library and indexed by Ei Compendex and Scopus successfully within one month after online.
ICEMT 2021 Conference Proceedings Cover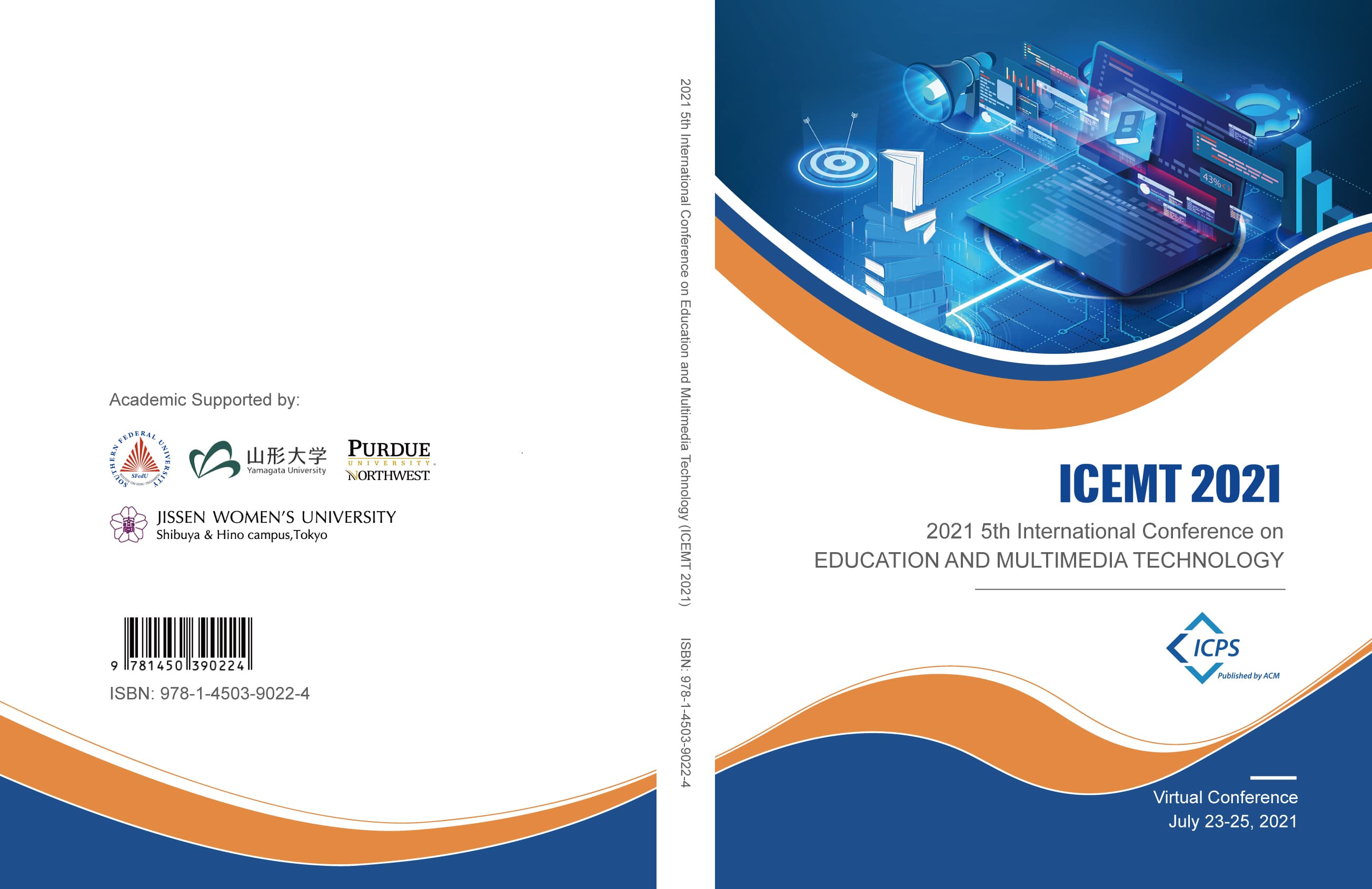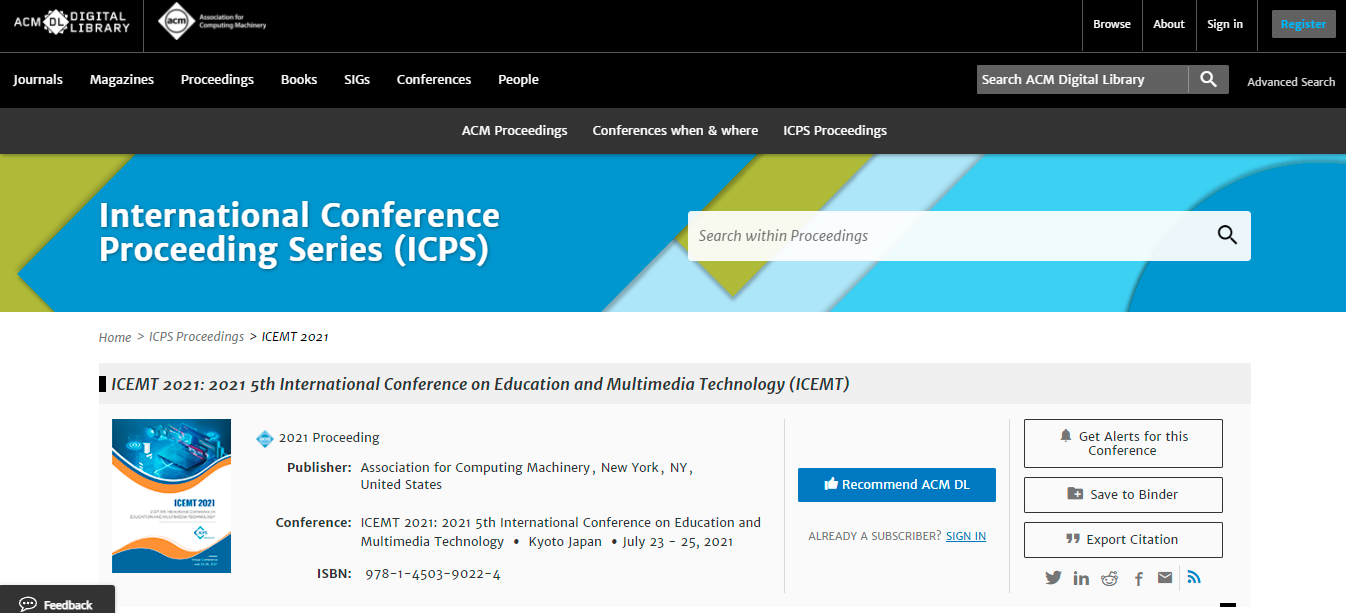 Indexed by Ei Compendex (Download full indexed proof)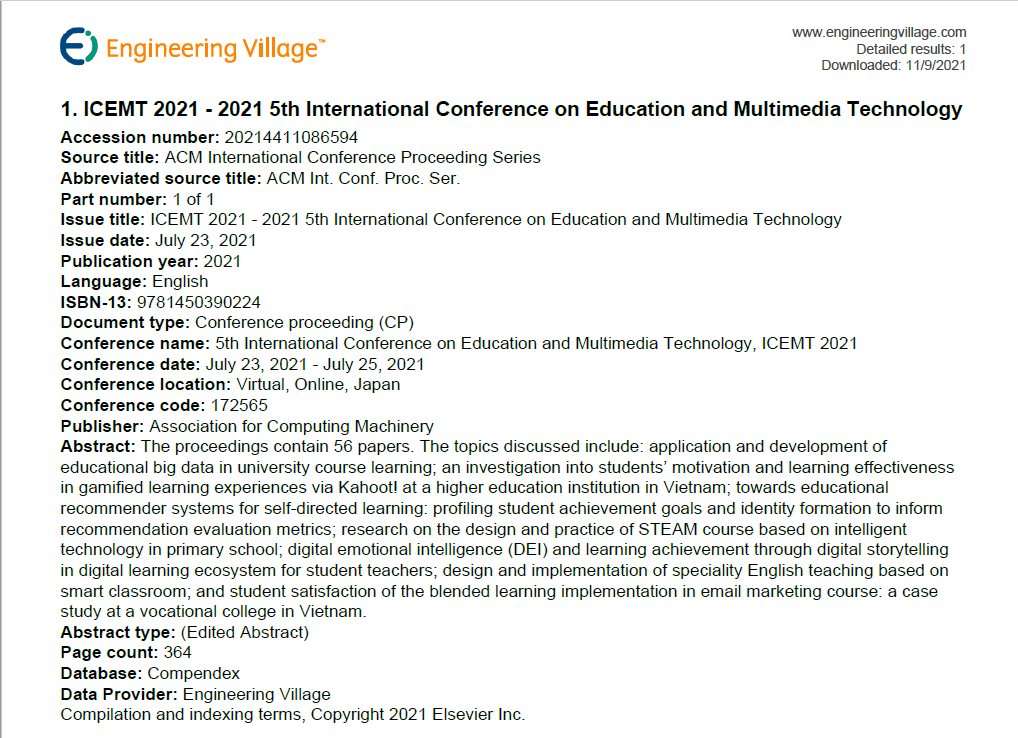 Indexed by Scopus